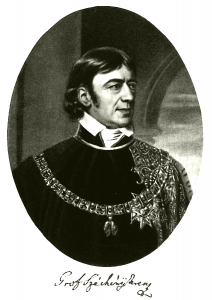 The National Széchényi Library celebrated the 220th anniversary of its foundation in November 2022. On 25 November 1802, István Széchenyi's father, Count Ferenc Széchényi, born in 1754, who, in addition to his involvement in public life, was one of the greatest philanthropist of his time, submitted a document to the court chancellery on 25 November 1802, in which he donated his private collection of printed and manuscript documents, maps, engravings and coins to his country, thus laying the foundations for a national library and museum.
On this website, we have collected images, texts and websites related to the founding of the national library, the life of Ferenc Széchényi, his immediate family, his correspondence with his contemporaries and his still living memory. The documents are from the collections of the Hungarian Electronic Library, the Electronic Periodicals Archive, the Digital Archive of Pictures and the NSZL Web Archive. Their distribution by type and subject can be accessed by clicking on 'Statistics'.
The selection can be browsed and searched by several criteria. In the results lists coloured bars indicate which collection the item is from, and padlock icons indicate whether the document is in open access. Red or yellow padlocks occur for web pages whose archived copies are not or not yet authorised by the content owner, but the metadata, thumbnails and the Internet Archive backups can be viewed in these cases. Documents that are publicly available can be accessed by clicking on the link 'Az OSZK-ban archivált dokumentum:' (highlighted in yellow) at the top of the detailed metadata sheet.
Under 'Biography' you can read a study by Eszter Deák, a staff member of the Early Printed Book Collection, and under 'Links' you will find some other web resources that may also be useful for those interested in the topic. Information on the use of documents published on the website can be found under 'Rights'.
By clicking on the 'Archiválásra javaslom' button below, anyone can recommend any other webpage or other digital content regarding Ferenc Széchényi that they would consider worth preserving.